TB Prevention in the HIV-infected Patient:Screening, Testing, and Treatment of Latent TB Infection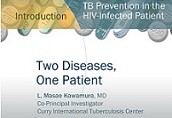 This online course, which includes slides, audio narration, and interactive questions, provides information on how to screen, test, and treat human immunodeficiency virus (HIV)-infected patients for latent tuberculosis infection (LTBI). TB and HIV experts from the Western Region wrote and presented the case-based lessons in this course. The lessons can be taken separately or in any order. Each lesson is 20 minutes or less in length.
Target Audience
clinicians working with patients who are coinfected with HIV and LTBI or patients who are at risk of coinfection with HIV and LTBI.
Please note:  This online course contains information about the treatment of latent tuberculosis infection (LTBI). It was produced prior to the release of updated guidelines from the CDC in February 2020.  For the most current guidance available regarding LTBI treatment, please see: Guidelines for the Treatment of Latent Tuberculosis Infection: Recommendations from the National Tuberculosis Controllers Association and CDC, 2020
Date of Release: December 2011