A life committed to restoring health, happiness, and human dignity
CITC is named after Dr. Francis John Curry (1911-1996), whose distinguished life and long productive medical career left many indelible legacies: dedicated clinician, TB control innovator, public health administrator, devoted husband, and father of eight. So tireless was his service to the most vulnerable members of the San Francisco community, locals dubbed him, "the Poor Man's Doctor."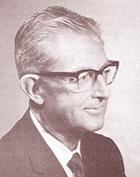 Exceptional lives are often marked by early trials and tribulations, and Dr. Curry's story is no exception. A native son of San Francisco, Curry was born on July 19, 1911, to William Martin and Madonna (Burke) Curry. In the depths of the Great Depression, the young Frank Curry worked his way through the University of San Francisco, only to be stricken with tuberculosis shortly after graduating in 1936. In that pre-antibiotic era, his recovery took 3 years, shortly followed by another cruel twist of fate: crossing Van Ness Street, he was hit by a car, seriously injured, and hospitalized for a year. Curry explained to a S.F. Examiner columnist in 1984 how these experiences stoked his desire to become a doctor: "I got a real, firsthand taste of what a patient goes through…and insight, particularly into lots of things that were done wrong in medical care."
Accepted by ten medical schools, he attended the only one — Stanford — that offered the scholarships he needed. Living in a rented garage with no heat, he managed to finish medical school in 1946, subsisting on a near–starvation diet and relying on a single pair of threadbare trousers. Clearly, these deprivations forged Dr. Curry's lifelong compassion for the poor, and according to the Examiner interview, drove him one night to strike a deal with "The Boss" — "I looked up in the starry sky and told Him I'd work for the poor, but He had to ease up on me." Arriving to his freezing garage room, Curry found a letter offering him a night job at French Hospital — including room, board, and the princely salary of $25.00 per month.
After graduation from Stanford, Dr. Curry worked in California's Central Valley, serving migrant farm workers and Native Americans who had little trust in white doctors. "I tried to treat everybody the same, like a member of the human race," he recalled. "The love and respect that came back to me were worth far more than the couple of bucks I got paid." In 1948, he married Beryl Marguerite Swannel, and together they would raise six sons and two daughters.
As a captain in the U.S. Army during the Korean War, Dr. Curry directed the TB unit at Fitzsimmons Army Hospital in Denver. Returning to San Francisco in 1956, he began his 20-year association with the public health department: Director of the chest clinic at San Francisco General Hospital (1956-1974); Chief of the TB Division (1960-1974); and Director of Public Health (1970-1976).
In 1958, Dr. Curry opened what was then a public health novelty — a neighborhood clinic. St. Anthony's chest clinic was built in a washroom next to a soup kitchen in the Tenderloin (an area of the city once referred to as "skid row.") To entice the street alcoholics off the food line for their TB tests, clinic nurses offered cards good for going to the head of the line later. This maneuver was an early example of the use of patient incentives, a strategy that later become the standard of care in TB control. In the coming years, Dr. Curry would further advance the concept of "patient–centered care" by establishing several more satellite clinics throughout the high–incidence TB areas of the city, and ensuring that clinic hours were set for the patients' convenience. Dr. Curry also recognized that his TB control program could make important contributions to research. His 8-year study demonstrating the benefits of isoniazid preventive therapy in local school children was published in the New England Journal of Medicine in 1967.
As director of public health in the 1970s, Dr. Curry spearheaded the drive to create a new medical center from the century-old San Francisco General Hospital, a project completed in 1976. A skilled administrator, but never a bureaucrat at heart, he retired that year to devote himself full time as a volunteer clinician at St. Anthony's medical clinic. Eight years later when the Examiner columnist marveled at his stamina to see patients, teach, and fund-raise seven days a week, Dr. Curry responded: "I'll have plenty of time to rest when I'm in the ground. Right now I'm paying back for my good fortune. When you're without food and someone gives you a loaf of bread, you can share it and still have more than you had before. I've gotten so much from life, I can share it and still come out ahead."
On June 29, 1994, Dr. Curry attended the grand opening of the model training center named in his honor: the Francis J. Curry National Tuberculosis Center (renamed in 2011 as the Curry International Tuberculosis Center). Another organization that bears his name is the Curry Senior Center, which provides medical treatment and meals to low–income and frail seniors in the Tenderloin. Both centers pursue their missions in the memory and spirit of the man who said, "I think human dignity, in the end, is the most important thing any of us can have."
Francis Curry died at the age of 85 in 1996. His widow, Beryl Curry, still lives in San Francisco.
CITC Principal Investigator Phil Hopewell, MD, worked with Dr. Curry and describes the lasting impact of the man he so admired: "Frank Curry was a man who truly 'put his money where his mouth is,' working with the poorest of the poor as a volunteer at a stage in life where many of us would be content to look back on our accomplishments, which in Frank's case were many. Frank's life presents an example of service we should all seek to emulate."