An electronic newsletter from the Curry International Tuberculosis Center (CITC)
National TB conference convenes and honors TB community
On June 12-15, the National TB Controllers Association (NTCA) and the Association of Public Health Laboratories (APHL) combined forces to host the 2023 National TB Conference, titled Partnership, Innovation, and Equity. TB program staff and allied providers from throughout the U.S. and Pacific Islands gathered in Atlanta to learn, share, and network. Sessions featured expert panels that discussed a range of topics, including health equity approaches in data collection and TB care, innovations in TB diagnostics, and new paradigms for creating isolation guidelines.
The NTCA awards ceremony on June 14 was a highlight of the conference. CITC congratulates all award recipients, and proudly spotlights the recipient of the prestigious NTCA President's Award:  CITC Associate Director Ann Raftery, RN, PHN, MS.
 
The President's Award is given each year at the discretion of the NTCA President to an individual who have made extraordinary contributions to the field of TB care and prevention. This year, NTCA President Heidi Behm, RN, BSN, MPH (who also serves as TB controller for the Oregon Health Authority) presented the award to her close and longstanding TB nurse colleague, Ann Raftery
In her remarks, Ms. Behm noted Ann's 35-year-plus career as a nurse and educator, her work with the State of California's TB Control Branch in the early 2000s, and her move to the Curry Center in 2006 where she became the primary architect of CITC's "nurse-to-nurse" training program and the lead designer of CITC's key live courses for nurses in the western region. In 2013, Ann was named Associate Medical Director of CITC, a title that reflects her leadership skills and expertise in training, advising, and mentoring nurses and other health professionals. In 2018, Ann spearheaded the effort to create and publish the first nursing guide developed to assist nurses in managing side effects to treatment for drug-resistant TB: International Council of Nurses/CITC Nursing Guide for Managing Side Effects to Drug-resistant TB Treatment
In memoriam:  Carol Pozsik, RN, MPH (1941-2023)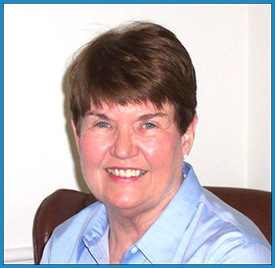 On September 15, the TB community sadly received news of the passing of Carol Pozsik, RN, MPH, a longtime and beloved TB nurse, educator, leader, and pioneer in gaining professional recognition for TB nurses.
A native of Ohio, Ms. Pozsik held several nursing and public health administrative positions before landing at the South Carolina Department of Health and Environmental Control where she worked for over 30 years, serving as the Director of the TB Control Division for 22 years. During her last decade in that role, she was actively involved in the founding of NTCA, and in 2005, she became its Executive Director until her retirement in 2013. Carol Pozsik helped found the American Thoracic Society TB Nurses Special Interest Group that later became the National TB Nurse Coalition (NTNC). She was also one of the first members to sit on the CDC's Advisory Council to Eliminate Tuberculosis (ACET).
Ms. Pozsik served as faculty for many CITC courses in the 1990s and early 2000s. Curry staff fondly remember her as an engaging and effective trainer – warm, funny, and direct. A tireless champion of patient-centered care, Carol Pozsik prioritized respect and patient advocacy in her presentations on case management and treatment adherence.
In 2010 NTCA created the Carol Pozsik TB Nursing Award, its highest annual award for nurses, to honor exemplary care, service, dedication, or leadership in the field of public health TB nursing. Carol Pozsik's family suggests that those who wish to pay tribute to her life and legacy may donate to the National TB Controllers Association or the American Lung Association.
2nd U.N. high-level meeting on TB yields new targets to end TB

On September 22, the United Nations General Assembly held the second high-level meeting on the fight against tuberculosis and approved a political declaration with ambitious new targets for the next five years to advance global efforts toward ending the TB epidemic.
Co-facilitated by Poland and Uzbekistan at U.N. headquarters in New York, the meeting aimed to comprehensively review progress toward the achievement of targets set in the 2018 political declaration and in the Sustainable Development Goals. According to the World Health Organization (WHO), global efforts to combat TB have saved over 75 million lives since the year 2000, but they fell short of reaching the targets, mainly due to severe disruptions caused by the COVID-19 pandemic and ongoing conflicts. Only 34 million people of the intended 40 million people with TB were reached with treatment between 2018 and 2022. Worse still, TB preventive treatment reached only 15.5 million of the 30 million people targeted to receive it.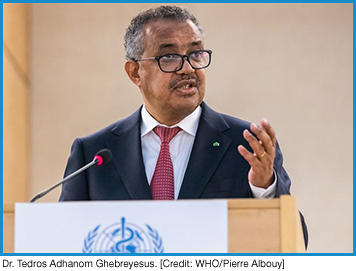 Among many points discussed at the meeting was the issue of insufficient funding as a barrier to progress. WHO reports that funding for TB services in low- and middle-income countries fell from $6.4 billion in 2018 to $5.8 billion in 2022, representing a 50% financing gap in implementing the required TB programs. Annual funding for TB research hovered at or below $1 billion between 2018 and 2022, which is just half of the target set in 2018.
In the lead-up to the meeting, WHO Director-General Dr. Tedros Adhanom Ghebreyesus officially launched the TB vaccine accelerator council to facilitate the development, licensing and use of new TB vaccines. Bacille Calmette-Guérin (BCG), currently the only licensed TB vaccine, can prevent severe forms of TB in infants and young children, but it does not adequately protect adolescents and adults, who account for more than 90% of TB transmission globally.
Ann Scarpita: A CITC faculty profile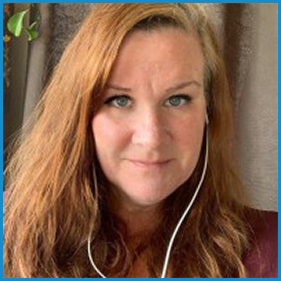 Ann Scarpita, MSN, MPH, BSN-RN, is a state TB nurse consultant (Colorado), Warmline nurse consultant, skilled administrator, and all-around public health dynamo. Ann recently spent a few minutes in conversation with CITC Newsletter to discuss the fascinating (and arduous) path that led to her remarkable career, and the insights she's gained along the way.
Where were you born and raised?
I was born and raised in a small rural dairy farm community in southeast Wisconsin called Rubicon. The town's population was about 130 people, many of whom were my family members!  I had 15 brothers and sisters; needless to say, we lived a very modest lifestyle.
What led to your choice of nursing as a career path?
That's a great question. I was married and raising a family, working as an Assisted Living Administrator.  I was fully engaged in my residents' lives (including medically) and I kept hearing from the families and visiting nurses that I should consider nursing as a career. I finally decided to bite the bullet and start nursing school, a tough decision because I had three young children and had to continue working while in school. I started a third-shift position in a local hospital as a health unit coordinator until I graduated with my BSN. I was enrolled in school (Marian University, WI) taking up to 19 credits a semester while working the third shift and raising my kids. It was the hardest thing I ever had to do, but through determination and grit, I got through it. I am extremely proud of that accomplishment, and even more so of how great my kids turned out despite that being a stressful period in our lives.
What were your first impressions of nursing as a career?
I loved everything about it and am extremely proud of being a bachelor-prepared nurse, especially through the excellent program at Marian University. I remember wanting to avoid the public health class -- not the most exciting class, to say the least. I thought I wanted the acute setting. I was an older student, and my professor recognized I wouldn't like something like immunizations or vision/hearing checks as a clinical experience, so she assigned me to a TB PHN, who had a patient who was newly discharged with active TB disease. Ironically, I had met this patient while he was hospitalized on my med-surg unit, and I remember asking everyone, "What was going to happen when he was released? Who was going to follow him and give him his meds?" I ended up seeing the entire process, from hospitalization through discharge, and then through PHN case management. It was truly serendipitous. The PHN essentially gave me the case with instructions, and I ran with it. It was all I needed to learn that I loved TB case management and wanted to do that moving forward. After I graduated, I started my public health career at the Sheboygan County (WI) Public Health Department, while working weekends and holidays at the hospital on their med-surg unit as an RN for 2 more years.
Are there any mentors from your early career that you'd like to acknowledge?
Sandy Muesegades was my TB mentor at Sheboygan County and remains my hero in public health nursing. Sandy was a PHN veteran and TB extraordinaire, having worked as a TB nurse for over 40 years! She is the reason I am as diligent as I am in TB case management. Had I not had the experience of working with her, I may not even be in TB now. My second mentor was Dr. Barbara Seaworth, medical director for the Heartland National TB Center, our COE at the time for Wisconsin. She mentored me from afar through my first MDR-TB case. I learned so much through her guidance and discussions. Dr. Seaworth is fabulous because she discusses and educates while providing recommendations, and she is so approachable. It is the best way for us nurses to learn the pathophysiology of TB. 
From Sheboygan County you moved up to the Wisconsin State Health Department as a TB nurse consultant, and a few years later you served a stint with the State Department of Corrections. Any reflections on that chapter?
The Department of Corrections was one of the most challenging workplaces in my life, and I have had many experiences. It takes truly special and dedicated healthcare employees to work in corrections. If you think public health is underfunded and difficult, try working in correctional healthcare. If you know anyone working in this field, thank them often for what they do.
You noted your youngest child graduated from high school in 2015, and then you moved to Denver to become the Colorado state TB nurse consultant. Eight successful years into that demanding role, what are the rewards?
The rewarding parts are helping people understand TB and TB case management, and of course, seeing the patients get through this challenging illness. In TB, we are not just handing out medications, we are holistically caring for the person and their family by addressing all their psychosocial needs. We are often the first healthcare staff who are giving them the attention and respect they deserve, from simply using properly trained medical interpretation services during our interactions to getting people connected to necessary services within the community. This is what makes our job so incredibly rewarding. I am proud of what we accomplish.
What's challenging?
The biggest challenges by far are the lack of passion and interest in TB work, turnover in staff, PHN burnout from COVID response, the trend to replace nurses with unlicensed assistive personnel, and lack of adequate funding for our TB programs and patients. We see a trend to make things easier, cheaper, and faster at the expense of being patient- and community-focused. Our TB rates are as low as they are because of the diligence of our public health workforce over the past 100 years. We do ourselves a disservice by downplaying TB in the news when we have a case or an outbreak. After all, TB killed 1.6 million people worldwide in 2021. That should be alarming to everyone!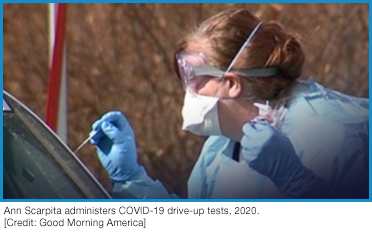 You were on the frontlines of the COVID-19 response for the State of Colorado in 2020. Three years later, what are your insights about the pandemic's impact on TB care and prevention?
When you take all funding and work away from every other disease to put toward one specific disease, all suffer. We have higher case rates, more complex advanced TB disease, and more infected contacts now due to the deviation of resources from our work. No one was looking for TB, so we had fewer identified cases, not fewer cases. We must learn from that mistake and do better.
You've volunteered as a nurse consultant on the CITC Warmline faculty since 2018. What's that been like?
It is an amazing and rewarding experience to help other healthcare professionals in our western region. Additionally, it helps me recognize trends in training needs and challenges other states are facing. I love being a part of the Curry team!
-------------------------------------------------------------------------------------------------
Editor's note: CITC Newsletter reached out to Michelle Haas, MD, a TB expert at National Jewish Health and close colleague of Ann Scarpita, who shared this admiration:
"Ann Scarpita has tremendous expertise in TB care and treatment and is trusted colleague who works tirelessly to ensure that patients receive the best care possible. It has been a privilege to collaborate on case management with her over the years. She is meticulous in her approach and ensures that every aspect of a patient's treatment plan is covered. She is also a fierce advocate for optimizing TB care within our community."
CITC's "Bridges to Build" series seeks to advance health equity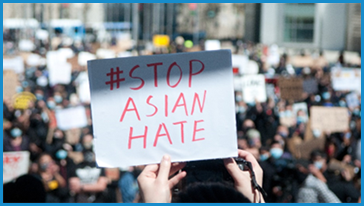 On September 7, CITC presented Bridges to Build: TB in the Asian and Asian American Community, a 90-minute webinar focused on how the historical (and ongoing) experience of anti-Asian racism impacts A/AAs' access to care and the quality of care they receive. Presenters shared specific strategies for clinicians and programs to improve TB care for A/AA patients, leading to better outcomes.
TB in the Asian and Asian American Community was the third webinar in CITC's "Bridges to Build" series, initiated in 2021 as a call to action to focus on cultural and structural humility and to share tools for advancing health equity in TB care and prevention. Previous sessions in the series were: Improving TB Care for African American Patients and TB Along the Border. Visit the CITC website to view archived recordings of the series.
CITC TB Warmline service offers new online portal for consultation requests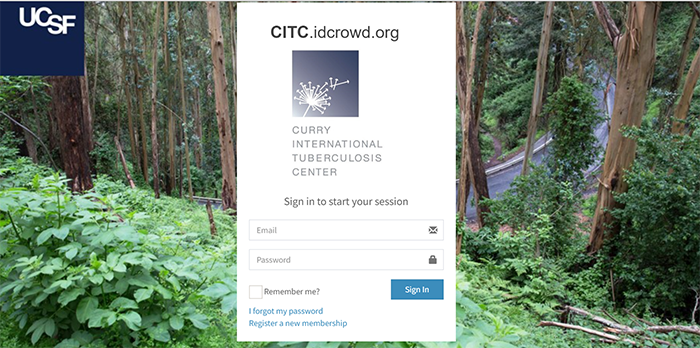 In July CITC announced that healthcare providers in the Western Region have a new way to request Warmline TB medical consultations via the Center's new consultation portal, ID Crowd.
The Centers for Disease Control and Prevention has directed all TB Centers of Excellence (TB COE) to use this new consultation database. The platform allows consultation requesters to submit their consultation requests (along with any supporting images or documents) directly onto the ID Crowd platform.  The Warmline consultant may reach out to the requester on the telephone or via emails generated by ID Crowd.
The CITC Warmline Service provides clinical TB consultation, pediatric case consultation, and TB prevention recommendations to private- and public-sector clinicians free of charge. Warmline consultants are experienced clinicians and academic faculty in the field of TB affiliated with the University of California, San Francisco and other TB centers.
To request a consultation:
Option 1: Visit: CITC.idcrowd.org, register as a member, and complete the information requested
Option 2: Email: Currytbcenter@ucsf.edu
Option 3: Call toll-free 877-390-6682 or 415-502-4700, leave a voicemail
Warmline consultation requests are received by a CITC staff member and then forwarded to the consultant on duty for that week. Requestors receive a response from the consultant within two business days. All consultation requests are shared with the TB program staff in the jurisdiction from which they originate.
Upcoming trainings
CITC's schedule of upcoming trainings offers a variety of training opportunities for clinicians and public health providers.
Toward Equity: Tools for Collaborative TB Case Management and Contact Investigation
TB Case Management and Contact Investigation Core Training Module 5
October 24, 2023 [virtual training]
Navigating Mental Health and TB: Soft Landing, Please!
November 9, 2023 [webinar]
Tuberculosis Program Manager's Intensive
November 13-16, 2023
Oakland, CA [in-person training]
CDC Tuberculosis Technical Instructions: What Civil Surgeons in California Need to Know
February/March 2024
Oakland, CA [in-person training]
UCSF Center for Tuberculosis and CITC World TB Day Symposium and CITC 30th Anniversary
March 22, 2024
San Francisco, CA [in-person or virtual participation]
For periodic updates on additional trainings, complete course descriptions, and application forms, visit the CITC training section.
About CITC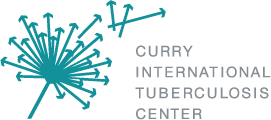 CITC creates, enhances, and disseminates resources and models of excellence, and performs research to control and eliminate TB in the United States and internationally. The Curry Center opened in 1994 and is now designated by the Centers for Disease Control and Prevention (CDC) as a TB Center of Excellence (TB COE) for the Western Region, serving Alaska, Arizona, California (including Los Angeles, San Diego, and San Francisco), Colorado, Hawaii, Idaho, Montana, Nevada, New Mexico, Oregon, Utah, Washington, Wyoming, and the U.S. Pacific Island Territories. Committed to the belief that everyone deserves the highest quality of care in a manner consistent with his or her culture, values and language, CITC develops and delivers highly versatile, culturally appropriate trainings, educational products, medical consultation, and technical assistance.
CITC staff
Principal Investigator / Medical Director: Lisa Chen, MD
Associate Medical Director/Nurse Consultant: Ann Raftery, RN, PHN, MS
Deputy Director: Kelly Musoke, MPH
Acting Director of Education: Jeannie Fong
Nurse Educator: Colleen Hoehn, BSN, MPH
Program Manager: Amelia Alonis
Program Manager: Emily Mabry, MPH, CHES®
Web Developer: Mari Griffin, MS
Special Projects Manager/Newsletter Editor: Kay Wallis, MPH
Contact us
Curry International Tuberculosis Center
University of California, San Francisco
(510) 238-5100
Warmline TB Medical Consultation: 877-390-6682 (toll-free) or 415-502-4700
CurryTBCenter@ucsf.edu
www.currytbcenter.ucsf.edu
Visit CITC on Facebook
Follow CITC on Twitter
Visit CITC on LinkedIn
Subscribe to CITC on YouTube
How to unsubscribe
Please email your unsubscribe request to CurryTBCenter@ucsf.edu if you no longer wish to receive CITC Newsletter.