Drug-Resistant Tuberculosis: A Survival Guide for Clinicians, 3rd edition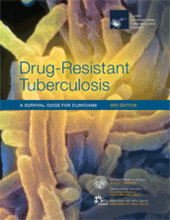 First released in 2004, the Guide is a joint publication of CITC and the Tuberculosis Control Branch of the California Department of Public Health. It contains information and user-friendly tools and templates for use by any clinician who participates in the management of patients with drug-resistant TB. 
The 10 chapters and 4 appendices cover major topics pertaining to epidemiology, diagnosis, laboratory issues, treatment, medications, pediatrics, co-morbidities and special situations, monitoring and case management, adverse reactions, and treatment of contacts.
What's new in the third edition of the Guide?
Laboratory, a new chapter presenting information about the laboratory tests used to confirm TB infection and/or disease, including tests available for the more rapid molecular detection of TB and drug resistance

New data on outcomes of treatment for drug-resistant TB and newer drugs and regimens available

Updated information about 23 medications used to treat tuberculosis, including 5 new fact sheets not included in the second edition:  Bedaquiline, Clarithromycin, Delamanid, Meropenem, and Rifapentine.  

Expanded information about diagnosing and treating TB disease and LTBI in children, now devoted to its own chapter

New sections on "Diabetes Mellitus" and "Solid Organ Transplant" in Chapter 7, Co-Morbidities and Special Situations
Updated listings of resources in the Appendices.
Date of most recent third edition updates (Chapter 6: Pediatrics, pgs 158, 162): October 2019 
Date of third edition release: April 2016
Date of second edition release: December 2008
Date of original release: June 2004