Basic Chest Radiology for the TB Clinician (Self Study Presentation)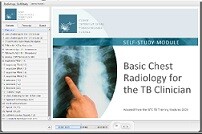 A 54-minute self-study module, this online tool allows learners to listen as CITC's medical director, Lisa Chen MD, presents the basics of how to read chest radiographs: covering basic anatomy, disease patterns, and tuberculosis specific presentations. Learners can listen or read along at their own pace.
Target Audience
Clinicians and healthcare professionals
Presenter
Lisa Chen, MD
Associate Clinical Professor
Division of Pulmonary and Critical Care Medicine 
University of California, San Francisco
San Francisco General Hospital
Technical Requirements
To view and listen to Basic Chest Radiology for the TB Clinician Presentation, you will need the following:
Computer with sound card
Speakers or headphones
Connection to the Internet
Current version of a web browser such as Internet Explorer, Firefox, or Safari
Adobe Flash Player
Adobe Acrobat Reader
Adobe Flash Player is not supported for playback in a 64-bit browser. However, you can run Flash Player in a 32-bit browser running on a 64-bit operating system.
Date of Release: June 2011