California Tuberculosis Risk Assessment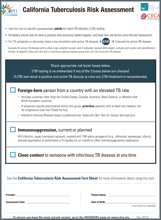 California Tuberculosis Risk Assessment is a product developed jointly by the Tuberculosis Control Branch at the California Department of Public Health (CDPH), the California Tuberculosis Controllers Association (CTCA), and the Curry International tuberculosis Center (CITC).  The tool is designed to help clinicians select adults for LTBI testing who are at high-risk for TB exposure or progression to TB disease. See the accompanying Fact Sheet for more information about using this tool.
Documents are provided in PDF and MS Word versions. MS Word versions can be customized with logos.
Date of Updates: September 2018
Date of Original Release: December 2015